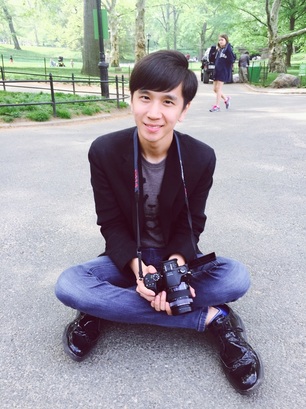 Bing Wang loves film. All types. Documentaries, dramas, horror, romantic comedy, etc... For him, watching, analyzing and creating film means serious leisure and fanatic business.
As a documentary filmmaker/producer, Bing adores cinéma vérité and loves to investigate family, communication and identity issues; he hopes to explore various visual methods to serve the underprivileged. Bing's self-produced and directed feature debut, THE ABILITY EXCHANGE, acclaimed as "a one-man band empathy engine" by Indiewire, explores disability, inclusion and empathy in an intimate college classroom and beyond. He is also known for his editorial role in Heather White and Lynn Zhang's powerful labor rights exposé COMPLICIT and Fusion's GLAAD-nominated TV documentary THE NAKED TRUTH: CHINA QUEER. Bing served as the creative producer and cameraman for Doris Yeung's docudrama THE UGLY MODEL and associate produced Ursula Liang's award-winning documentary 9-MAN. For the past two years, he has been developing a new project titled LOUD LOVE, a tender probe into parenting, growth and its occasional hurdles, epitomized by a gay deaf couple with hearing twin children in New York.
In addition, Bing has abundant freelance experience as a video artist. His clients include the Guggenheim Museum, Fusion Media, Shearwater Films, and the Sign Language Center, among others. His goal is to provide creative solutions tailored for specific client needs [watch Bing's showreel]. As an educator, Bing has been lecturing on digital storytelling at NYU Tandon for the past few years. He is eager to experiment with more experiential and empathetic methods in teaching documentary filmmaking.
Bing studied journalism and advertising at Fudan University in Shanghai. He then moved to New York and graduated from New York University with an M.A. in Cinema Studies from Tisch School of the Arts and an advanced certificate in Culture and Media from the Anthropology Department. He has lived in Brooklyn, New York ever since and savors every moment of it.
---