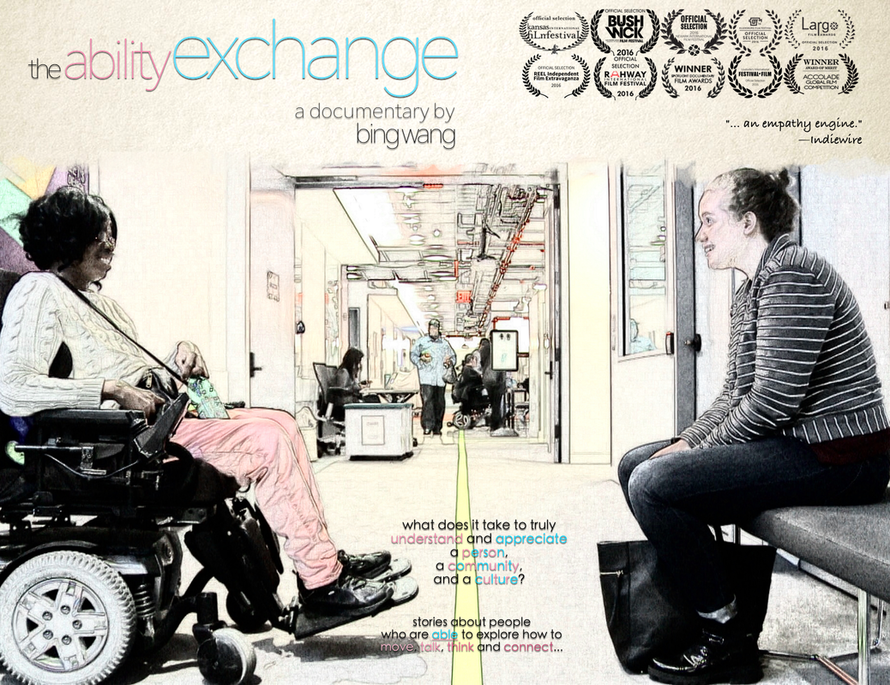 THE ABILITY EXCHANGE

[director/producer/cinematographer/editor - feature documentary, 2016]

THE ABILITY EXCHANGE

is a documentary film about an innovative Disability Studies course at NYU Polytech where engineering students and self-advocates with cerebral palsy team up to make movies. This observational film illustrates the trajectory of personal growth and bonding that these first time filmmakers experience, during a journey of which the line between ability and disability gets blurred, definitions of "normalcy" and "inspiration" challenged.

THE ABILITY EXCHANGE

invites the viewer to reflect on what it takes to understand and appreciate a person, a community, a culture, and how this exchange of abilities and perspectives empowers lives.

​The film had its NYC hometown presentation at

2016 Bushwick Film Festival

and won "Best Feature Documentary" at 2016 DC Reel Independent Film Extravaganza, "Audience Favorite" Award at Ellensburg Film Festival, Spotlight Documentary Film Award and Award of Merits from Accolade Global Film Competition.

​TRAILER

/

PURCHASE
---
COMPLICIT​

[additional editor/associate producer - feature documentary, 2017]

Shot below the radar, Complicit follows the journey of Chinese factory migrant worker-turned-activist Yi Yeting, who takes his fight against the global electronic industry from his hospital bed to the international stage. With incredible access, the film explores global brands' social responsibly and consumers' role, while offering an in-depth look into love, family, Chinese culture, and the people sacrificing everything to make a difference. Its original trailer released on YouTube has received over 1.2 million views and helped persuade Apple to change its policy on the use of benzene.

The film premiered at the 2017 Geneva International Film Festival and Forum on Human Rights and was officially selected by Toronto International Film Festival and London Human Rights Watch Film Festival.

TRAILER
---
THE SOUND OF INNOCENCE

[editor/writer - documentary, in post-production]

"The Sound of Innocence" features young faces from various Chinese ethnic minority communities living in the eternally flowery, mountainous, and racially diverse Yunnan province of China. Facing the rapidly growing landscape of commercialism and the forceful assimilation to the dominant Han culture, four youngsters who harbor complex sentiments for their traditional musical arts, ranging from pride to indifference, struggle to find their cultural identities by rediscovering their aboriginal music while pondering its relevance. "The Sound of Innocence" echoes the pristine melodies produced by suona and sanxian, and reveals what it takes to honor "traditions" and the personal significance of it. TRAILER
---
LAVENDER MARRIAGE (working title)
​[editor - TV documentary, in post-production]

"Lavender marriage" is the popular term used to describe a male-female marriage in which one or both of the partners is homosexual, and the marriage is formed for some reason other than the romantic attachment. Set in the modern Chinese LGBT landscape, this film presents honest, intimate, and complex (often conflicting) insights from the community on coming out, family values and governmental censorship.
---
---
9-MAN[associate producer - feature documentary, 2014]

An award-winning sports film that uncovers an isolated and unique streetball tournament played by Chinese-Americans in the heart of Chinatowns across the USA and Canada.
---
| | |
| --- | --- |
| --- | SINGING JADE[director/producer/cinematographer/editor - student short documentary, 2013]Founded in 2005, the Columbus Park Senior Orchestra has provided a joyous experience to its members, who perform amateur Cantonese opera on the weekends in Chinatown's Columbus Park. SINGING JADE documents these endearing elders as they prepare for the New Year's Gala. Featuring two troupe members—Chen, a 75-year-old beloved diva, and Mei, a 60-year-old backstage supporter and babysitter, the film ponders what it means to grow old as an immigrant and an artist with youthful, musical spirit.DIVA GRANDMA[director/producer/cinematographer/editor - student short documentary, 2012]Sandy Tang, a 68-year-old immigrant Cantonese opera diva, has been taking care of her two grandsons for many years in Queens. This short film highlights her long lasting passion for opera performance, her commitment to the community, and her endearing grandmotherly qualities. |
---