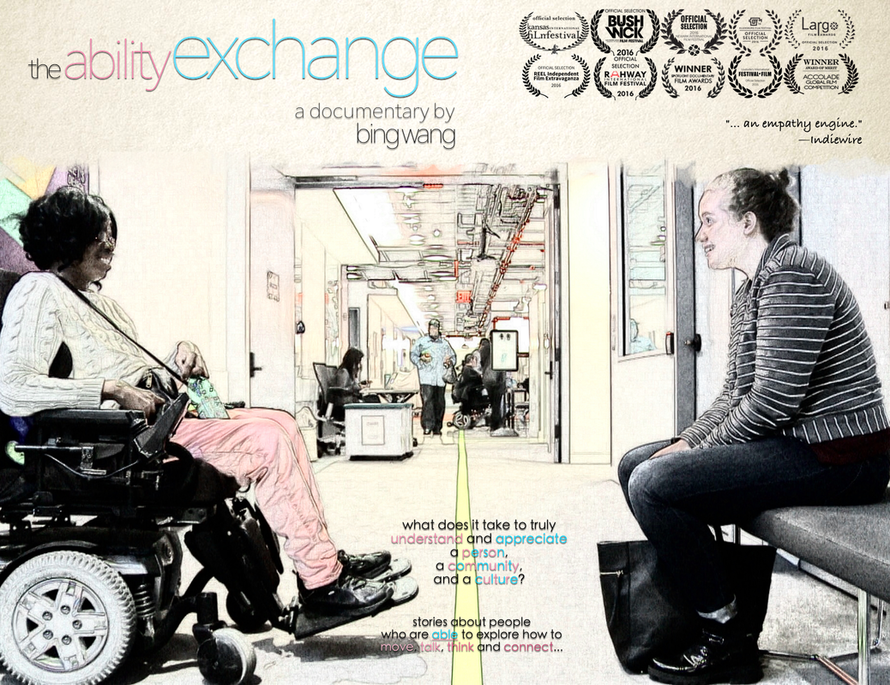 THE ABILITY EXCHANGE

[director/producer/cinematographer/editor - feature documentary, 2016]

THE ABILITY EXCHANGE

is a documentary film about an innovative Disability Studies course at NYU Polytech where engineering students and self-advocates with cerebral palsy team up to make movies. This observational film illustrates the trajectory of personal growth and bonding that these first time filmmakers experience, during a journey of which the line between ability and disability gets blurred, definitions of "normalcy" and "inspiration" challenged.

THE ABILITY EXCHANGE

invites the viewer to reflect on what it takes to understand and appreciate a person, a community, a culture, and how this exchange of abilities and perspectives empowers lives.

​The film had its NYC hometown presentation at

2016 Bushwick Film Festival

and won "Best Feature Documentary" at 2016 DC Reel Independent Film Extravaganza, "Audience Favorite" Award at Ellensburg Film Festival, Spotlight Documentary Film Award and Award of Merits from Accolade Global Film Competition.

​

​TRAILER

/

PURCHASE
---
---
COMPLICIT​

[additional editor/associate producer - feature documentary, 2017]

Shot below the radar, Complicit follows the journey of Chinese factory migrant worker-turned-activist Yi Yeting, who takes his fight against the global electronic industry from his hospital bed to the international stage. With incredible access, the film explores global brands' social responsibly and consumers' role, while offering an in-depth look into love, family, Chinese culture, and the people sacrificing everything to make a difference. Its original trailer released on YouTube has received over 1.2 million views and helped persuade Apple to change its policy on the use of benzene.

The film premiered at the 2017 Geneva International Film Festival and Forum on Human Rights and was presented at Film Society of Lincoln Center and IFC Center in New York as part of the Human Rights Watch Film Festival.

TRAILER
---
THE NAKED TRUTH: CHINA QUEER ​[editor - TV documentary, 2017]

For China's LGBTQ, the surveillance, intimidation, and even imprisonment of advocates is often coupled with stigmatization at home in a country whose national pride rests on 4,000 years of tradition. In a new one-hour documentary, FUSION TV's award-winning investigative team examines what it's like to be gay in China and the challenges LGBTQ activists face.

TRAILER
---
---
THE SOUND OF INNOCENCE

[editor/writer - documentary, in production]

Through the eyes of four Chinese ethnic minority youngsters who struggle to find their cultural identities by rediscovering aboriginal musical arts, "The Sound of Innocence" echoes the pristine melodies produced by suona and sanxian, and reveals what it takes to honor "traditions" and the personal significance of it.TRAILER
---
---
SINGING JADE[director/producer/cinematographer/editor - student short, 2013]​Featuring two elderly Chinese opera singers in Columbus Park, this film ponders what it means to grow old as an immigrant and an artist with youthful, musical spirit. It stems from Bing's concern

with cross-cultural cross-generational communication issues and the deep love for his grandmother who raised him in Harbin, China.

The film was presented at

2014 Queens World Film Festival

in New York,

2014 Ethnografilm Festival

in Paris,

2014 Screening Scholarship Media Festival

at University of Pennsylvania and 2014 Future of Visual Anthropology Conference at Temple University.
---